Description
Highlights of Sapa brings most of Sapa's natural wanders to your holidays. You will enjoy much the natural beauty and magnificent landscapes while paying visit to Sapa's most beautiful valleys, meeting 4 tribal peoples, witnessing unique ways of life. For your 4th day of the trip, one of the tribal traditional markets in the region such as Sapa,
Bac Ha
, Coc Ly, Muong Hum,Cao Son …will add more color to your vacation.
ITINERARY
Night 1: Take overnight train from Hanoi to Lao Cai
Please, be ready at your hotel lobby at 19h.30 for a short transfer to Hanoi railways station for taking the overnight train (first class 4 beds cabin with air-condition) which arrive in Lao Cai city, near the Chinese border next morning.
Day 1 : Lao Cai - Sapa Town's Highlights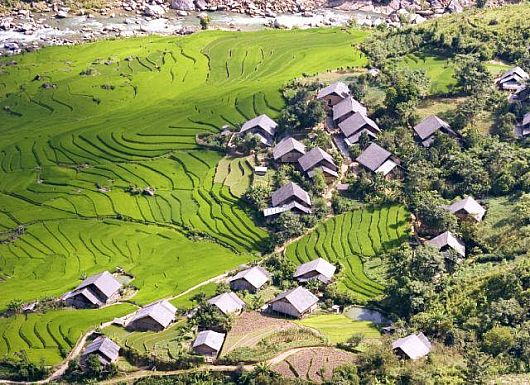 The train arrives at Lao Cai station early at about 06.00, meet your guide and driver as you check out and an hour transfer uphill the Hoang Lien Son mountains to Sapa. Great views of valleys and terraced rice fields along the way.
After Breakfast your guide will show you around for a brief introduction of this charming town. At the market, ethnic minority people of different groups wearing their traditional costumes made by themselves comes every day selling local products includes vegetable, bamboo shoot, mushroom, medicinal herbs and souvenirs…there are chances to get intact and taking photos.
Later you will follow the footsteps uphill to the top of Ham Rong Mountain for over viewing beautiful scenery of the town and surrounding area, paying visit to an orchard garden and a mini museum which tells you a lot about ethnic minority people living in Sapa and the northwest region. Later in the afternoon, you may wish to continue your walk down hill to visit Cat Cat village of the Black H'mong, 5 km away or drop in a local terraced café to enjoy your self as the cloud comes and goes.
• Breakfast and Lunch included, Dinner on your own
• Accommodation: Hotel in Sapa
Day 2 : Visit Ta Phin Valley - Silver Waterfall - Tram Ton Pass
Today morning, you will visit Ta Phin commune 14 km southeast of Sapa town. Located in a large valley, surrounded by high mountains, which covered by pine trees and forest, Ta Phin Commune is home to the Red Zao and Black H'mong ethnic. Although living close to each other for years, these two ethnic peoples are very different: The H'mong are cheerful and open minded while the Red Zao are economical and reserved…
Take a 14km drive to the center of the valley, you will enjoy an easy walk following village path around the valley, paying visit to H'mong hamlets scattering from the bottom of the valley to higher mountain slopes. From high elevation, great view of the valley stretching under your foot. Continue your walk to the Red Zao village in which you will meet groups of women making handicrafts includes embroidered clothes, handbags… Transfer back to Sapa for Lunch and noon break.
Afternoon, Local guide and driver will pick you up at about 02.00 pm and then drive up hill to see the famous Silver Waterfall and then onto Tram Ton, the highest mountain pass in Vietnam at 1,800 m above sea level for enjoying the magnificence of Hoang Lien Son Mountain Range as well as over viewing spectacular landscapes of the whole area, stretching endlessly. Transfer back to Sa Pa and relax.

• Breakfast and Lunch included, Dinner on your own
• Accommodation: hotel in Sapa

Day 3 : Tribal Villages visiting along Muong Hoa Valley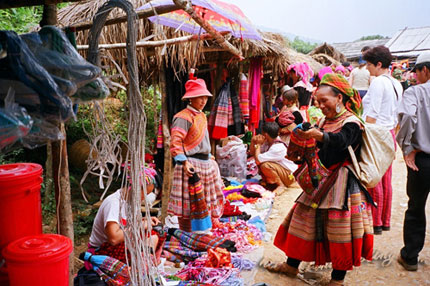 Two high ranges of mountains run in parallel southwest of Sa Pa town create Muong Hoa valley, famous for its breathtaking scenery in the region which is home to the major part of Sa Pa's ethnic population including the H'mong, Zao, Zay, Tay and Xa Pho.
Today you will spend the whole day exploring the spectacular Muong Hoa. A Jeep will take us out of the town, following the only road built on the side of a mountain range, looking down the valley, over viewing magnificent landscapes composed of high mountains, deep valleys, and stream of water winding, waterfalls and terraced rice paddies…Many time, leaving the main road, you will visit tribal villages such as Ta Van of the Zay, Su Pan of the Black H'mong, Ban Ho of the Tay…there are chances for meeting and contacting locals at home and at works.
We leave Ban Ho in late afternoon, drive back to Sapa. Evening is at your leisure.

• Breakfast and Lunch included, Dinner on your own
• Accommodation: hotel in Sapa

Day 4 : Full day joining a Tribal Traditional Market
Depending on what date it is today, you can choose one of the market available for your interest in our market list and we shall refine a detail itinerary and activities.
After a day joining locals and enjoying their market atmosphere and activities, you will arrive Lao Cai Station at about 18.00, having a shower before boarding the overnight train for Hanoi which arrive the next morning and trip ends.

• Breakfast and Lunch included, Dinner on your own
• Overnight train in first class 4 beds cabin with air-condition

Tour Price Per Person in USD