MEKONG DELTA TOURS - MEKONG BOAT TOURS - CRUISE MEKONG VIETNAM
Sapa is the most popular place to go in the Far Northwest amongst budget travelers and packages tourists alike. By using Sapa as a base you can hike off to more remote 'traditional' hill tribe villages and sometimes you will be offered a bed in a village for the night. Sapa was originally built as a hill station in the early part of this century and, in winter, gets bitterly cold. If you are going to be visiting Sapa in winter do not forget the winter woollies.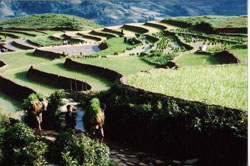 Sapa is preparing itself for the continuing tourist boom considerably well. Behind Sapa, towards Phong Tho is a high pass forming part of the Hoang Lien Mountains that were known to the French as the Tonkinese Alps. This range includes Fansipan, the highest mountain in Vietnam at 3,143m, which view at dawn could be spectacular.
There is a weekend market in Sapa during which the town fills up with hilltribe people selling their wares. If you want to see these tribes as they "traditionally" live (as opposed to flogging jackets to tourists), either go for a hike or head over to Dien Bien Phu from Sapa. This stretch has the most traditional people you will see in the whole of Vietnam. It seems that most tourist groups pile into Sapa during the weekend for the market. However, travelers have reported that during the week is a much better time to catch a glimpse of the real Sapa avoiding from a big hassle of tourists.
You can hike in the surrounding area and visit a number of fairly traditional predominantly Mong hilltribe villages. Further afield is the colourful Red Zao, Dzay, Tay and Xa Pho people. A home stay in the Tay village would be unforgettable experience.
DAILY OPEN SLEEPER BUS SCHEDULE FROM HANOI TO HO CHI MINH CITY
DAILY OPEN SLEEPER BUS SCHEDULE FROM HO CHI MINH CITY TO HANOI