SAPA HOTELS - BAC HA HOTELS - SAPA TOURS - SAPA TRAVEL - SAPA EXCURSION

SAPA VICTORIA HOTEL : Rate :


Victoria Sapa Hotel is located in Sapa, 380 km Northwest of Hanoi, among the Hoang Lien Mountains, in Lao Cai Province, near the Chinese border. 1.650 meters above sea level, famous for its pristine environment, unparalleled scenery and cool climate, Sapa is home to more than 30 colourful hill tribes and Vietnam's highest peak, the 3.143 meters Mount Fansipan.

More...,


CHAU LONG SAPA HOTEL : Rate :


Chau Long Sapa Hotel I & II can be found in a quite side street which is perched on a hill in this mountainous region. The stone and wooden construction blends perfectly with the surrounding valley features of terrace paddies and blazing green fields cut by fast following streams and overlooking Vietnam's highest peak – Mount Fan Si Pan .

More,,,.

BAMBOO SAPA HOTEL : Rate :

Accommodation at Bamboo hotel :28 rooms of the hotel offer a comprehensive guest facilities including: AC (H/C), satellite TV, IDD phone, private bathroom with bath-tub, hairdryer, fireplace and gas heater. Superior & Deluxe have own terrace featuring breathtaking views of Fansipan mountain.

Standard: 7 double rooms with double bed; 16 m2.

Superior: 18 double/twin rooms with balcony; 26 m2.

Deluxe: 3 larger rooms with salon area looking to Fansipan mountain; 30 m2 .

More ,,,.

SAPA GOLDSEA HOTEL : Rate :


Sapa Goldsea Hotel lies upon the mountain, looking over to the Muong Hoa valley, only 5 minutes away from Center Market and the Church which was built in the time of the French's ruling and the Town Center. In accordance with its spectacular charming space.

More ...,

SAPA SUMMIT HOTEL : Rate :

Sapa Summit Hotel has 40 rooms which are all well equipped with modern and most comfortable facilities such as IDD telephone, stallite television, fax, telex 24 hours service, specially, central heater. The only Bar & Restaurant view to Fanxipan mountain which you can enjoy the special European food as well as the traditional Asian dishes.

More ...,

SAPA ROYAL HOTEL : Rate :


The Royal Hotel was built in the year 2000 and is the hub or Royal Sapa (Viet Hung Company) operations. It is well known and well regarded for its comprehensive and efficient services. The Hotel itself is built o­n the hill and overlooks the Sapa Valley. Staff are friendly, helpful and efficient in taking care of guests and trekkers needs throughout their stay in Sapa.

The hotel has a total of 27 rooms :All rooms have TV, internal telephone, private bathrooms and hot water (12 rooms with Bathtub)

.More ....,

SAO MAI HOTEL - BAC HA MARKET: Rate :
Located in center of Bac Ha , Sao Mai is a popular place to stay and the rooms are clean and pleasant. The hotel has three sections: an older concrete building and two recently built wooden houses. There is a cosy restaurant /bar with outdoor seating under the plum trees. During the busy weekends the friendly owner organises traditional music perfomances in the bar. More ....,


Sapa 2days/3nights homestay 120 $
Sapa 2days/3nights hotel 120 $
Sapa 3days/4nights homestay 165 $
Sapa 3days/4nights hotel 160 $
Sapa -Bac ha market 3days 175 $
Bac Ha -Can Cau Market 3days
Train Tickets in Vietnam
Open Sleeper Bus in Vietnam


Hue Hoi An Excursion


Halong Full Day 35 $
Romantic night on Halong Junk 85 $
Halong Bay -Catba Isand 3day 139$

MEKONG DELTA TOURS - MEKONG BOAT TOURS - CRUISE MEKONG VIETNAM

Le Cochinchine Cruise Mekong Vietnam
RV The Jayavarman Cruise Mekong Vietnam
Mekong Eyes Cruise Mekong Vietnam
RV Pandaw Mekong Vietnam
Bassac Cruise Mekong Vietnam
RV Pandaw Mekong Vietnam Cruise
Mekong Delta Cruise & Homestay (2days/nights)
Saigon - Cai Be - Vinh Long -Saigon (Ful day )
Saigon - Can Tho -Rach Gia -Phu Quoc 3days

Sapa Vietnam
Sapa is the most popular place to go in the Far Northwest amongst budget travelers and packages tourists alike. By using Sapa as a base you can hike off to more remote 'traditional' hill tribe villages and sometimes you will be offered a bed in a village for the night. Sapa was originally built as a hill station in the early part of this century and, in winter, gets bitterly cold. If you are going to be visiting Sapa in winter do not forget the winter woollies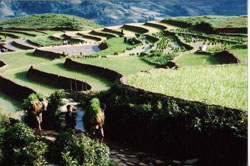 .
Sapa is preparing itself for the continuing tourist boom considerably well. Behind Sapa, towards Phong Tho is a high pass forming part of the Hoang Lien Mountains that were known to the French as the Tonkinese Alps. This range includes Fansipan, the highest mountain in Vietnam at 3,143m, which view at dawn could be spectacular.
There is a weekend market in Sapa during which the town fills up with hilltribe people selling their wares. If you want to see these tribes as they "traditionally" live (as opposed to flogging jackets to tourists), either go for a hike or head over to Dien Bien Phu from Sapa. This stretch has the most traditional people you will see in the whole of Vietnam. It seems that most tourist groups pile into Sapa during the weekend for the market. However, travelers have reported that during the week is a much better time to catch a glimpse of the real Sapa avoiding from a big hassle of tourists.
You can hike in the surrounding area and visit a number of fairly traditional predominantly Mong hilltribe villages. Further afield is the colourful Red Zao, Dzay, Tay and Xa Pho people. A home stay in the Tay village would be unforgettable experience.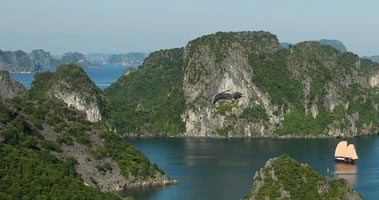 Halong Bay Promotion Tours