Can Cau Market & Bac Ha Market Vietnam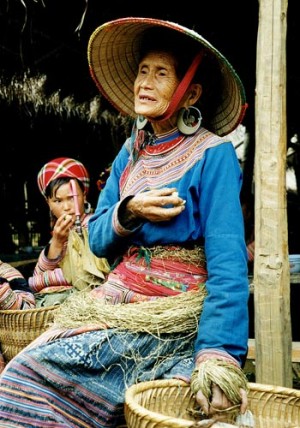 Sprawling near the banks of a river, Can Cau Market is a clearly defined shantytown, packed with crude stalls covered with thatched roofs. The start of a few simple settlements can be seen high above, many of whose residents now make their weekly pilgrimage to the market. We are only 9kms from the Chinese border and some traders make the journey across from China on horseback. Unfortunately foreigners are not allowed to reciprocate this set-up, however tempting it may seem.
By 9 am, the market is crammed to capacity. It's lively and surprisingly fun. The locals are mostly of the Flower Hmong minority group. You can't miss them -their traditional costume of green checked headdress and multi-colored, meticiculosly stitched and layered garments are simply stunning. Few foreigners make it to Can Cau; those that do brave the journey come either with a small tour group in four-wheel drives, or - if half-mad and on a tight budget like me -on the back of a motorbike. The handful of Westerners here this morning are the object of intense - though friendly- scrutiny. There is much laughter as we try to make basic conversation. Although the majority are painfully shy and not accustomed to seeing foreigners, some cheerfully allow photographs to be taken.