Sapa Summit Hotel ,Sapa Hotels , Vietnam Hotels
Validity Until 31 December 2008
Add :Thacbac Road Sapa Town
Tel : 84-20-872967 , 872968
Fax: 84-20-872985
Room Type
Single
Double
Triple
Type 1
From USD22
Type 2
From USD25
Type 3 ( Balcony Mountain View )
From USD35
Type 4 ( Balcony Mountain View )
From USD50
Booking Now
Rates shown are inclusive of all taxes and service charges.
All rates in US Dollars are per room (single or twin occupancy).
Rates here are available only for bookings made with this website, and are not available from the hotel directly.
The Sapa Summit Hotel is an international two-star standard Hotel This is not busy and rapidly growing area but also a center of culture and tourist activitives. Just a few minutes walk you can see the Church of Ethnic people and market where local people meet and do trading
Sapa Summit Hotel has 40 rooms which are all well equipped with modern and most comfortable facilities such as IDD telephone, stallite television, fax, telex 24 hours service, specially, central heater. The only Bar & Restaurant view to Fanxipan mountain which you can enjoy the special European food as well as the traditional Asian dishes.
Sapa Sumit Hotel is your ideal place where you can find yourself at home.
Our experienced and skilled staff will remain in mind unforgettable impression on the hospitality of Sapa people.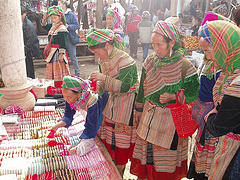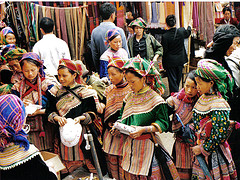 Sapa
Sapa is the most popular place to go in the Far Northwest amongst budget travelers and packages tourists alike. By using Sapa as a base you can hike off to more remote 'traditional' hill tribe villages and sometimes you will be offered a bed in a village for the night. Sapa was originally built as a hill station in the early part of this century and, in winter, gets bitterly cold. If you are going to be visiting Sapa in winter do not forget the winter woollies. Sapa is preparing itself for the continuing tourist boom considerably well. Behind Sapa, towards Phong Tho is a high pass forming part of the Hoang Lien Mountains that were known to the French as the Tonkinese Alps. This range includes Fansipan, the highest mountain in Vietnam at 3,143m, which view at dawn could be spectacular. There is a weekend market in Sapa during which the town fills up with hilltribe people selling their wares. If you want to see these tribes as they "traditionally" live (as opposed to flogging jackets to tourists), either go for a hike or head over to Dien Bien Phu from Sapa. This stretch has the most traditional people you will see in the whole of Vietnam. It seems that most tourist groups pile into Sapa during the weekend for the market. However, travelers have reported that during the week is a much better time to catch a glimpse of the real Sapa avoiding from a big hassle of tourists. You can hike in the surrounding area and visit a number of fairly traditional predominantly Mong hilltribe villages. Further afield is the colourful Red Zao, Dzay, Tay and Xa Pho people. A home stay in the Tay village would be unforgettable experience.
Bac Ha Market
The Sunday market in Bac Ha is where you'll want to stock up on water buffalo, pigs and horses. Once you're all set, you can browse for bottles of local firewater (made from rice, cassava or corn) or handicrafts made by some of the 10 Montagnard groups living near here - Flower Hmong, Dzao, Giay (Nhang), Han (Hoa), Xa Fang, Lachi, Nung, Phula, Thai and Thulao.Bac Ha is a less crowded alternative to Sapa, and arriving midweek makes for a relaxing visit. Around 700m above sea level, the highlands around Bac Ma are somewhat warmer than Sapa. Bring ear plugs so you needn't endure the 'Voice of Vietnam' echoing from the loudspeakers at market-rousing time.
MEKONG DELTA TOURS - MEKONG BOAT TOURS - CRUISE MEKONG VIETNAM